Buddhist Teen Fiction. Really?
Oakland Author Yudron Wangmo is determined to carve out a niche in the burgeoning world of young adult fiction for books that address the stresses and conflicts of teen life with Buddhist remedies.
"There are lots of novels that look at teen concerns through the lens of Christian values. So far almost none bring young people into the world of meditation and eastern philosophies through story telling," says Wangmo. Ms. Wangmo was given her name by a Tibetan lama when she became a Buddhist more than twenty years ago. "Practicing and studying the meditation techniques and philosophy of Tibetan Buddhism has given me the life tools to be a happy person. I'm not aiming to convert anyone from their own religion, but I see many young people suffering—for example from anger, fear, jealousy, and trauma—who don't believe in anything. With that nihilistic perspective comes hopelessness. It's my belief that a good yarn can change a person."
Wangmo's first book of a series, "Excavating Pema Ozer," published by Mayum Mountain Resources, is available from all the major online sellers.
Yudron Wangmo has completed five years of formal meditation retreats in her tradition, and is an authorized meditation teacher. "Since I'm not enlightened yet, my main thrust right now is communicating the power of meditation to our youth while I continue on my own path."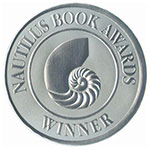 May 2017 – The Buddha of Lightning Peak wins Nautilus Book Award
Oakland, California author Yudron Wangmo's pioneering novel, The Buddha of Lightning Peak, has won silver in the 2016 Nautilus Book Awards young adult category. The book follows the adventures of a teen eco-activist girl, pairing her activism with her personal and spiritual development as a Buddhist meditation student.
Nautilus aims "to celebrate and honor books that support conscious living & green values, high-level wellness, positive social change, and spiritual growth." Past winners of Nautilus awards have included well-known influencers and writers such as; Angeles Arrien, Amy Goodman, Andrew Harvey, His Holiness the Dalai Lama, Thich Nhat Hanh, Desmond Tutu, Louise Erdrich, Barbara Kingsolver, Gary Zukav and Naomi Wolf.
INTERVIEWS
Vajrayana World
Yudron shares her experimental journey as a Vajrayanist novelist for teens. The strong story-telling tradition in Tibet inspired Yudron to write her novels to help teenagers understand and heal their experiences.
Click here to read the interview
PODCAST INTERVIEWS
Dharmage
An interview with Yudron Wangmo, Dharma teacher and author of several books introducing Buddhism to younger readers.
REVIEWS
Review from LOTL – "The Buddha of Lightning Peak"
Guest on WordNerds: Yudron Wangmo takes viewers on her writing adventure for "The Buddha of Lightning Peak."

QUICK FACTS

Name: Yudron Wangmo
Born: Arlington, VA
Lives: Oakland, CA
Occupation: Writer, Meditation Practitioner.
Former occupation: Registered Nurse, Family Nurse Practitioner.
Recent Publication: Excavating Pema Ozer, Mayum Mountain Resources, 2016.
Hobbies: Solo retreats of one week to one year's duration.
Vlog: Wisdom and Compassion
Contact info: Yudron@gmail.com
Twitter: @YudronWangmo
Phone: (510) 629-1791